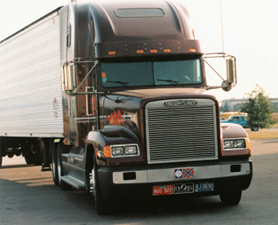 Obtaining a Class 1 licence will give you a number of employment opportunities. Driving truck presents a great deal of autonomy, and for many there is little work outside in the elements, which means the driver is warm and out of the weather. At times however, the weather can provide unique driving experiences, especially in the province of British Columbia. Many who adopt trucking as a career enjoy traveling to new places and working through the challenges that this exciting industry can present.For those able to be away from home for days or weeks at a time, long haul trucking companies can offer a training program, reasonable runs and competitive wages. Greater wages come with experience and specialized equipment, such as 'Super Bs', flatdecks or covered wagons.For those wanting to stay closer to home, there are ample opportunities to drive locally, operating dump trucks with pups, buses, and tanker trucks. All of which offer competitive wages.
Driving Commercial Vehicles is the guide for this licence.

ICBC Requirements
To apply for a Class One licence the applicant must be 19-years-old. A Class One licence will allow you to operate semi-trailer trucks and all other motor vehicles or combinations of vehicles except motorcycles (class 6). In other words, with a 'Class 1' licence a driver can legally operate all vehicles in the 'Class 1 to Class 5' classifications, such as Super 'B' trailers, buses, dump trucks with pups, or fire trucks. Often a Class '1' licence will make you more attractive to employer, owing to the flexibility of you being able to operate a range of vehicles.
Learning Curve
Learning to operate a 75' (23m) truck and trailer combination with a non-synchro mesh transmission and air brakes can be challenging indeed. At CSTT, one of our ICBC licenced instructors will work with you one-on-one. Here you will learn shifting, the pre-trip inspection, coupling/uncoupling, backing, turning and safely maneuvering the unit in traffic.When learning to operate a semi-trailer, students most formidable challenge comes with shifting and double-clutching. After several lessons of operating the vehicle in a controlled environment with minimal turns, students are faced with the next component of truck driving – turning the vehicle safely on city streets. For most students, it takes some time to understand that they are driving the trailer and not the truck. In other words, the tractor goes out of the lane and the trailer stays in the lane.
Costs
All training is one-on-one with a licenced driving instructor. At the time of registration, you are required to pay a deposit. Lessons will not be scheduled until the deposit is received. For more information please call CSTT at 250-655-0432.
All ICBC related fees are the responsibility of the student.